The idea behind this project was to create a positive learning space from an existing prefabricated building with poor environmental credentials within the Sydney Olympic Park site.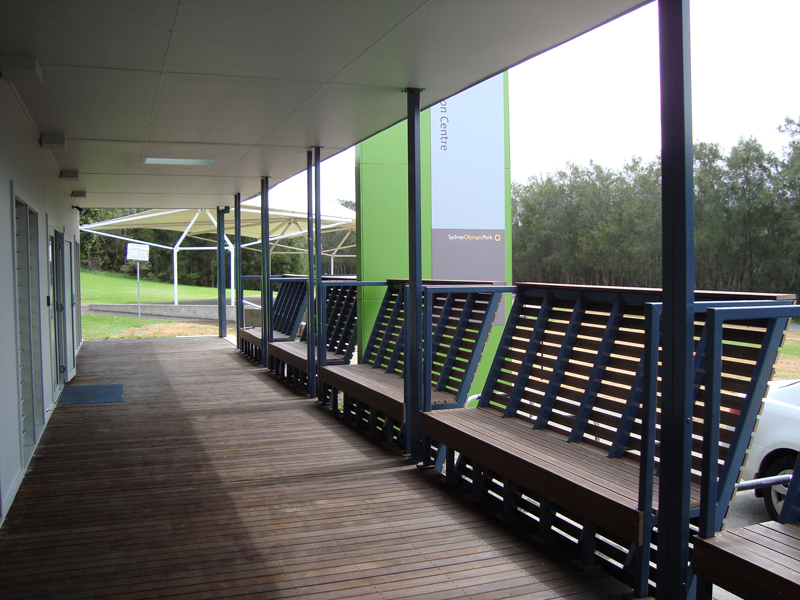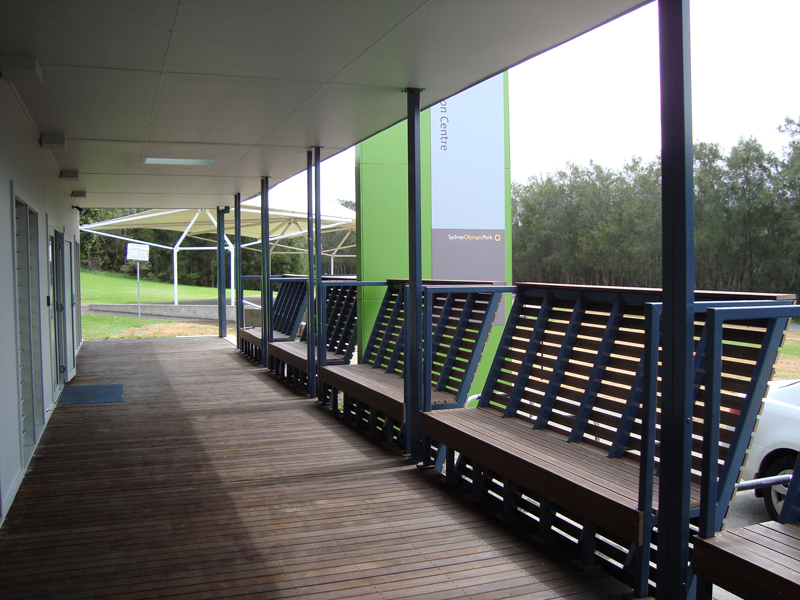 Challenge
To create a positive learning space from a prefabricated building with poor environmental credentials within the Sydney Olympic Park site, originally constructed as a sales showroom for a housing development.
This building is now used as a teaching facility for school students visiting Sydney Olympic Park to learn about the natural environment. It needed to be upgraded so that the learning space could align with and support the sustainability intentions of the activities it hosts.
Solution
A range of opportunities were identified to deliver a desirable, sustainable space for the Education Centre that would take advantage of its basic structure while preparing it for a more enjoyable future. With a constrained budget, we tried to ensure that every initiative would achieve more than one outcome. Ideas included:
Replacing fixed glazing with operable louvers to assist with improving natural ventilation.
Installing hinged information panels to all openings to display information graphically at windows, enable security at night, and stabilize thermal conditions.
Insulating the ceiling to decrease energy loads.
Replacing the excessive number of energy consuming halogen downlights with new energy efficient suspended fluorescent lights.
Installing ceiling fans to assist in natural ventilation.
Reducing airconditioning systems from ten units to two.
Introducing a new interior colour scheme to improve light reflection and joy of space.
Installing seating to edge of verandah to accommodate large school groups while protecting them from the edge and improving the look of the building.
Erecting a new blade wall that hosts signage and gives prominence to the building on approach.
Establishing a new planting wall on framework off the west wall to protect building from harsh sun and both soften and signal the centre to people approaching from the car park.
Simple and intuitive methods for operating the building.
Collaborative team approach.
Building designed to be adaptable and accessible.
Convenient parking facilities for bicycles.
Greatly improved thermal performance of building.
Greatly improved natural light and ventilation.
Good views to the outside.
Wool carpet and marmoleum used for floor finishes throughout.
Attention to planning and detailing to manage acoustics.
Low VOC paints.
Greatly improved thermal performance to result in minimal heating and cooling.
Greatly improved levels of insulation in ceiling.
Ceiling fans installed to main room.
Greatly improved natural ventilation throughout building.
Low energy lighting using fluorescents.
Solar hot water heating installed.
High performance water saving fixtures and appliances.
Low water garden.
2,000 litre water tank located on new stand to provide shading and water for washing testing gear used by students.
Materials selected with thought given to reducing their impacts over their life.
Retention and extension of life for existing building and its materials.
Certified timber for new seating on verandah.
Land used for building improved by project.
Garden design to enhance local ecosystems and encourage local flora and fauna.
Garden design inherent to building design - will protect west facade.
Team
Caroline Pidcock
Alex Matyear
Alanna King
Rachel Couper
Builder: Carfax
Structural Engineer: Partridge Partners
Mechanical Engineer: Steensen Varming
Quantity Surveyor: Page Kirkland
Landscape Architect: Adrian Swain