"What a beautiful place to be - there is such a sense of peace and inspiration. And you would never know from the front!"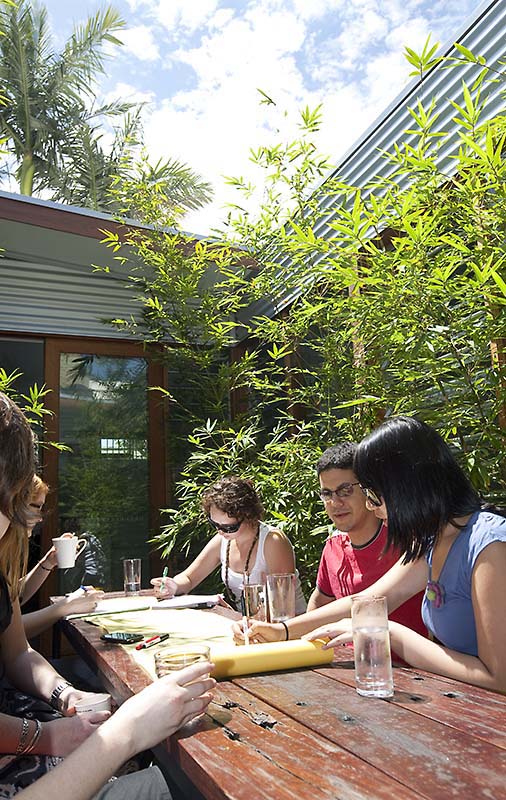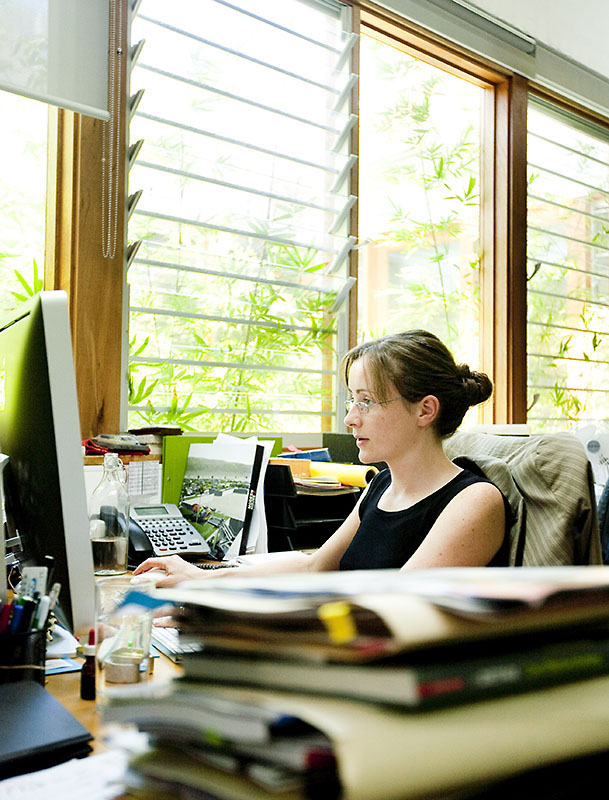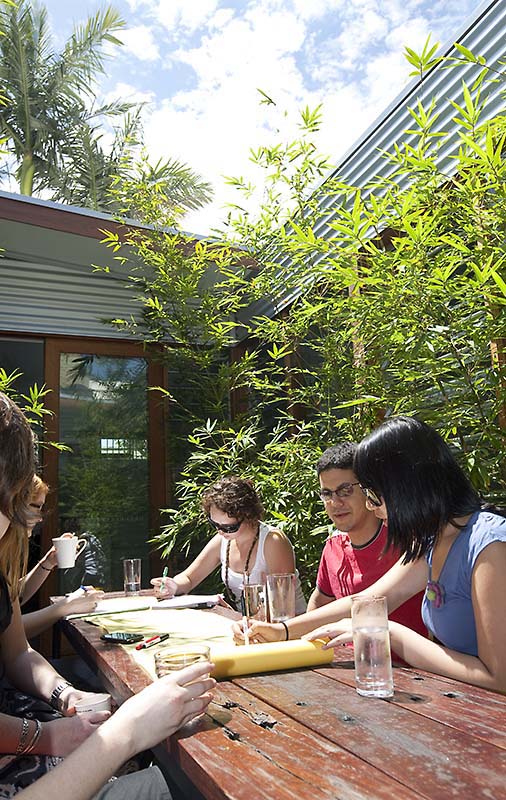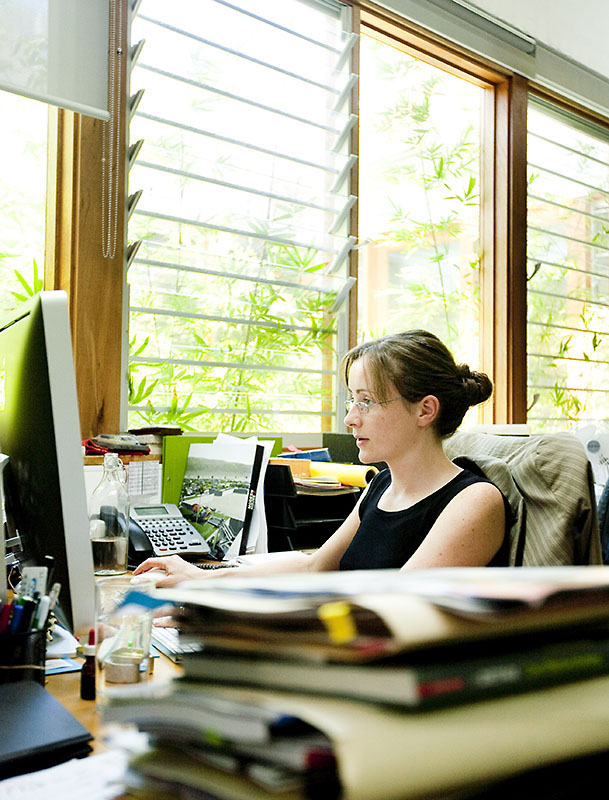 Challenge
The brief for this project was to refurbish an1850's sandstone cottage and associated buildings into a Centre for Sustainable Practice - a commercial office space to be shared by businesses providing professional services with a focus on sustainable practice. Located in a major urban renewal precinct, this building previously housed a photographic processing laboratory, which relied heavily on artificial light and ventilation.
A significant problem with the original building was the complete lack of natural light or ventilation to the majority of the space. As all the external walls are located on the boundaries, the solution was not immediately obvious. Adding to this problem was the poor quality of the building fabric beyond the sandstone cottage at the front and the dark internal colour scheme that made the place feel claustrophobic.
Solution
This solution was found through the introduction of a new courtyard into the middle of the building and the reinstatement of the side courtyard off the kitchen. The courtyards provide space to enable the building to be lit and naturally ventilated, as well as external areas for the occupants to enjoy. Occupants are continually connected to and aware of the external environment, and operable windows allow individuals to control their own level of thermal comfort.
The project embodies and is informed by strong sustainable design principles to enhance its new purpose. These include adaptive reuse of the existing building and materials; inclusion of passive solar design principles where possible including the introduction of natural light and ventilation to the rear section; purchase of certified sustainable products/materials; and inclusion of energy and water efficient appliances, water tanks and photovoltaics.
The general design approach was to retain and enhance the simplicity of the existing structure and materials- particularly the sandstone of the original cottage. The new materials, structure and building details have been designed to express and celebrate their inherent qualities and beauty.
Simple and intuitive methods for operating the building.
Collaborative team approach.
Considerate building practices.
Location of building near local facilities.
Food composting facilities.
Convenient location of storage space for recycling.
Convenient storage for bicycles to encourage use.
No provision for parking on site.
Good thermal performance of building.
Good natural light and ventilation.
Good views to the outside.
Low VOC paints.
All floors either Pandomo concrete finish or prefinished floating timber floor.
Carbon emissions target set at zero - working towards to be achieved.
improved thermal performance to result in reduced heating and cooling.
Increased levels of insulation and use of existing thermal mass.
Heating system - retained existing air-conditioner for occasional use.
Ceiling fans to office areas.
Well designed natural ventilation throughout.
Good natural light throughout.
Low energy lighting using fluorescents and LEDs.
Switching for all computers and other appliances at desk height to encourage turning off.
Reuse of existing instantaneous gas hot water heating.
5.4 kW photo voltaics for energy generation.
High performance water saving fixtures and appliances, including waterless urinals.
3 x 2000 litre water tanks connected to toilets and for use in landscape.
Materials selected with thought given to reducing their impacts over their life.
Minimal approach taken to design.
Building designed to easily adapt to changing occupation patterns.
Retention and extension of life for existing building and its materials.
Certified timber framed windows and doors.
Timber from sustainably managed forests for new floor boards.
Recycled or certified timber used for all other requirements.
Size of project purposefully kept to the smallest possible.
Built-on area kept to a minimum - courtyard reduces size of building footprint.
Land used for building improved by project.
Garden design to enhance local ecosystems and encourage local flora and fauna.
Garden design inherent to building design.
Inclusion of food plants will help provide for office.
Connection of office areas to garden to assist in better care.
Team
Caroline Pidcock
Jamie King
Project Manager: Mary Lynne Pidcock
Builder: Michael Wilson
Structural Engineer: Partridge Partners
Landscape Architect: Above the Earth
Certifier: City Plan Services
Photographer: FreeRange Productions