This month, the staff at PIDCOCK sat down at lunch and shared with each other stories and topics we found exciting or interesting. The topics varied from personal to community related but most shared a common theme; the impact architecture can have on people and societies at varying scales.
Kinetic Green Wall: Living Pixel Art
Green walls take on a whole new meaning when accompanied by the latest technological trends. BAD. Built by Associative Data have collaborated with Green Studios to create the "Kinetic Green Canvas", a prototype which turns ordinary building facades into a space for green art installations.
The "pixels" are individual modules, embodying both mechanical and hydroponic technologies, with four sides faced with plant life each in a different shade of green.
These modules are then put to work, taking data from an input image and rotating until the correct shade of green for each "pixel" is exhibited on the building façade, all together, creating a green wall of pixelated living art.
Watch this green wall come alive here.
Las Vegas: 100% Renewable?
A demonstration of the necessity for correct grammar, Popular Mechanics recently stated "Las Vegas is now the largest city in the country to run entirely on renewable energy". But as we all know, an enormous amount of power is consumed daily in order to bring Sin City to life at night. So how can these two things possibly add up?
The answer is, they don't. Whilst Las Vegas has increased its efforts to rely less on less sustainable energy sources, it is still powered primarily by natural gas. This mistake arose from confusion between the "City of Las Vegas" and the "city of Las Vegas". The fact is that it is not all of Las Vegas is powered by renewable energy but all of the government buildings in Las Vegas that are getting their energy from renewable resources.
Whilst this fact is excellent and is a step in the right direction for the future of our planet, the question we really need to ask is why aren't cities run on 100% renewable energy when it's all there for us?
Popular Mechanics article can be found here.
And a related article by Forbes can also be found here.
A Beautiful Wedding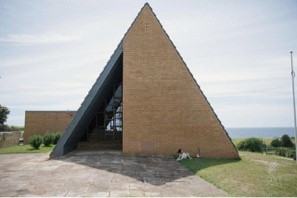 Jie had a fun filled and exciting Christmas break and topped it off by getting married! Jie and her new husband said their vows in front of family and friends at Little Bay Chapel. The stunning architectural chapel was the perfect fit for Jie's special day.
Family Ties
Finding out the history behind you family can be highly interesting, as Fergal found out. After putting together a family tree for his grandfather, Fergal discovered many family members spread across a number of generations, with interesting differences in age between family members in the same generation and a surprising number of relatives living close by.
Big Secret
After not having played her trumpet for nearly ten years, Susan was faced with a decision to make, continue on or face her nerves and participate in a "cabaret", playing as part of a band in front of a crowd of four hundred people. She chose the latter and has not looked back. After reviving her love of playing music, Susan is now part of band Big Secret and plays regularly at gigs all over the east coast of Australia.
Check out Big Secret's Facebook page here.
Kowloon Walled City: The Wall That Kept the City Within
Kowloon Walled City was an architectural feat, but perhaps not for the right reasons. Built during the Song Dynasty (960-1279), the walled city began as a small fort for salt trade. In 1898, the city was converted into a garrison for soldiers and officials, the same year as the Convention for the Extension of Hong Kong Territory was signed, giving Hong Kong to the British. However, China was not willing to give up the walled city and thus the walled city remained as two football fields of Chinese land within the territory of Hong Kong.
A lack of government authority in the area led to the walled city becoming a magnet for criminal activity. The Triads took over the city, providing services like medical care, factory spaces and shops, but at the same time inviting violence and crime. Apartments costing as little as $14 each were continuously stacked on top of each other with no concern for safety, and before long the walled city was home to over 35,000 people.
Despite the wall's lack of substantial foundations and the continued process of apartments dominoe-ing each other over and needing to be rebuilt, the city remained standing until the British and Chinese governments could no longer condone such a densely populated area bustling with crime. In 1987 it was decided that the walled city would be demolished. And with resistance, the city was finally demolished in 1994, making way for what is now a free and open Kowloon Walled City Park.
To learn more about the walled city, click here.
Collioure: A Colourful Commune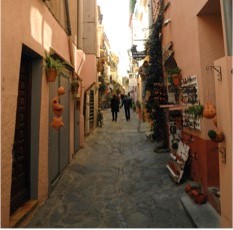 Towns all over Europe are known for their picturesque laneways and coloured terraced buildings, but Collioure, a small seaside commune near the border of France and Spain, goes to show that it's the finer details that give cities their real character.
The warm, orange shaded laneways are lined with shopfronts, cafés and greenery. But what makes the Collioure laneways stand out are the addition of handcrafted ceramic downpipes featuring a unique face at each house.
The Memory Code: Linking Place, Object and Memory
Book "The Memory Code" by Lynne Kelly prompts questions about the capacity of the human brain and how our ability to memorise can be built upon by utilising the world around us. The book discusses the act of associating memories or facts with physical objects or locations in order to increase our knowledge capacity, without overloading our brains, by selectively activating specific thoughts as a result of a visual marker.
An early example of this is Stonehenge. The stones at the monumental site were used to represent locations during a time when nomadic activity began to decrease. As a result, people could use these stones as memory or knowledge "markers" by their association to a place, without having to actually be in said place. Kelly tested this by setting up items around her home and the city in order to memorise all the countries of the world. And it worked!
This practice invites us to question the role of architecture not only in creating memories, but also as a device that can activate specific memories for individuals and serve as a tool to access stored knowledge at certain moments.
More information about this topic and the book can be found here.